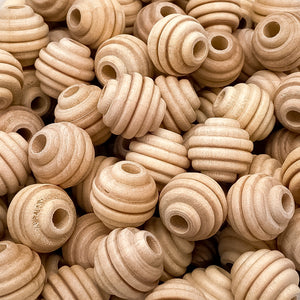 Diameter:  5/8" 
Hole Size: 3/16"
Shape: Beehive
Material: Birch or Maple
Our unfinished wood beads are made from natural wood and therefor some variations can occur, and they should be handled carefully to prevent damage.
Natural wood items may contain knots or weak areas that can crack or break with forceful impact or improper handling. Always inspect your products before each use, and discard them immediately if you notice any cracks or breaks.
Never leave a child unsupervised with any of our products.
Do not submerge or soak wooden items in water; we recommend spot cleaning only.

Do not put in the freezer or dishwasher.