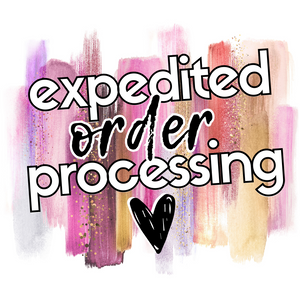 Excludes pre-sale and custom engraved items. 

Tiered Pricing:  Please select the correct option for the full order amount, before expedited order processing, and/or discounts have been applied. 
If the incorrect tier is selected an invoice will be sent for the remainder, plus a $1.50 invoicing fee, which could cause delays.

Expedited Order Processing
This is for expedited order processing only, and does not affect the shipping method used to ship your order.  

If you need faster shipping we recommend selecting UPS Next Day Air at checkout as they pick up in the afternoons whereas USPS Priority Mail Express has to be picked up early in the morning, so those typically do not go out until the morning after an order is fulfilled. 

Expedited Order Processing on standard items means that your order will be bumped to the front of the line (behind existing expedited orders) with a guaranteed turn around time of 1 - 2 business days instead of the usual 4-5 business days.  

Please note that some custom items have different turnaround times when expediting, so please check the listing.  

For orders shipping via USPS, orders will ship out next day with mail delivery pick up.  For orders shipping via UPS (any speed), our cut off time is 11:00 am Central Standard Time.  Any order placed after 11:00 am CST with UPS shipping as the selected transportation will ship next day.  These shipment times are to be taken into consideration of our 1-2 business day turn around time for expedited order processing.

Our business hours are Monday - Friday 9:00 am until 5:00 pm Central Standard Time.  We are closed on weekends and national holidays. 

Please email us at help@americanteethingsupply.com with your order number to notify us that you have placed an expedited order.