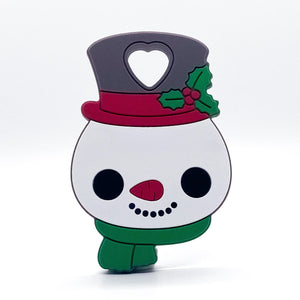 Frosty the Snowman, was a very hmm hmm hmmm...I'll admit, after working in a retail store for way too long, I stopped listening to Christmas music and I've completely forgotten the lyrics.  Oops!

I may not know the words to the song, but I DO know that this teether is absolutely adorable! 
As always, the teethers we stock are made using 100% food grade silicone that have been FDA approved. They are non-toxic and are free of any harmful chemicals, which means no BPA, lead, PVC or phthalates.